With the need to attract just the right customer, renting a house is a battle. But with the right property description and some copywriting knowledge, it could become a lot easier. To make your property speak for itself you'll have to find the right words and phrases, guaranteed to reduce vacancy and attract the perfect buyer.
Here are some useful tips on writing good rental property listings:
Make the Headline Stand Out
Like a newspaper, your listing should use its headline to draw in a potential customer. The headline is your chance to leave a good first impression and draw the potential customer in to find out more. The problem is that there are so many headlines in the world fighting for that same attention. If you want your ad to be the one the customer clicks on, it has to be really attractive but still relevant.
Creating an eye-catching title is an art form in itself. It does not rely solely on clever words but also includes capitalization, great punctuation and a certain amount of flair and boldness – all in around 20 words. Using humor is sometimes also acceptable, but only if appropriate. You should find a happy middle between bold and unconventional and professional – attracting attention is important but not at the cost of coming off as too quirky to work with.
We recommend including a variation of the following in your headline:
Bedroom size
Bathroom size
Square footage
Rental price
Neighborhood
Major features such as pool, patio, view
If the home comes furnished
Write a Compelling Description
Next comes the opening statement and this is the place where the reader finds out what you're offering. Tell your readers what they're going to get, straight away. Show them the unique aspect of your property and state the benefits of buying it that they simply won't be able to resist.
"Your headline advertising has worked and drawn the reader in, this section acts as a pull to tell the reader exactly what they're looking at and why they would love it. It urges the reader to find out more and read on to the end".

Amanda Belling

Real Estate Writer, Oxessays
If all of this is too much for you, we recommend teaming up with high-quality property managers instead. These real estate professionals can list and market your property, reducing your vacancy cost while maximizing your cash flow. Find yourself a trustworthy and credible property manager who can do all these for you while charging you the average property management fee.
Focus on doing the things you love and still maximize your rent income without breaking a sweat.
Premium Listing & Marketing Services For Your Property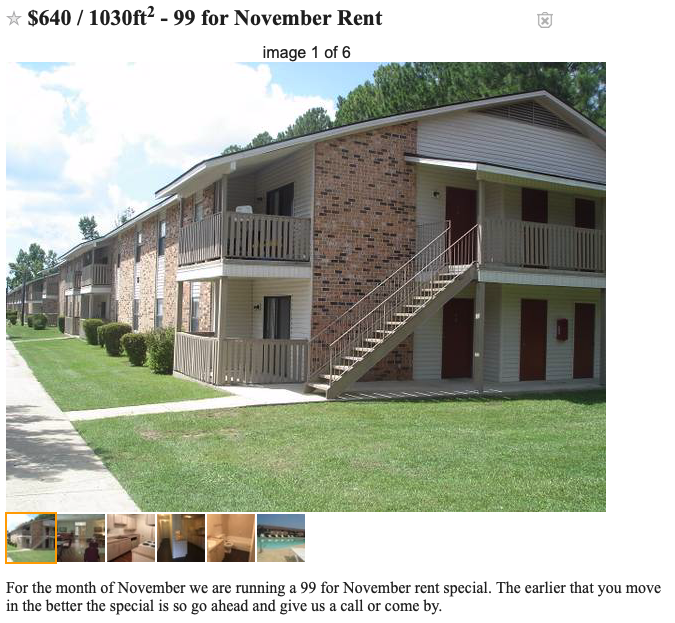 Example 1:
To the left is an example of a rental property listing on Craigslist that needs revision.
The rental property photos look great. There is a large rent special discount. What is lacking is an optimized headline and description.
The headline does not describe the number of bedrooms, bathrooms, location, or special features. They do include the price and the square footage. We suggest revising it to the following:
2 bed/1 bath Apartment For Rent in (location) with November Move-in Specials.
Example 2:
Here is an ideal property listing at 855 Folsom St in San Francisco, CA. At a closer look, this listing description says:
This two-story, single bedroom townhouse is located in the South of Market neighborhood in San Francisco. With pretty decent walk, transit, and bike scores of 94, 100, and 95, respectively, this location is rated as a walker's paradise and almost all errands can easily be accomplished on foot, and even more efficiently on a bike, and this location also has world-class public transportation. The interior features rich hardwood flooring, fully-carpeted bedrooms for added comfort, and high ceilings. The open-concept kitchen consists of rustic cupboards and drawers, dark granite countertops and backsplash, and ready-to-use top of the line stainless steel appliances. For vehicle parking, a detached garage is provided.
There is a descriptive analysis for what a renter should expect upon entering the home. The walk score transit score, bike score, nearby parks, communities, bus lines, and schools are also listed.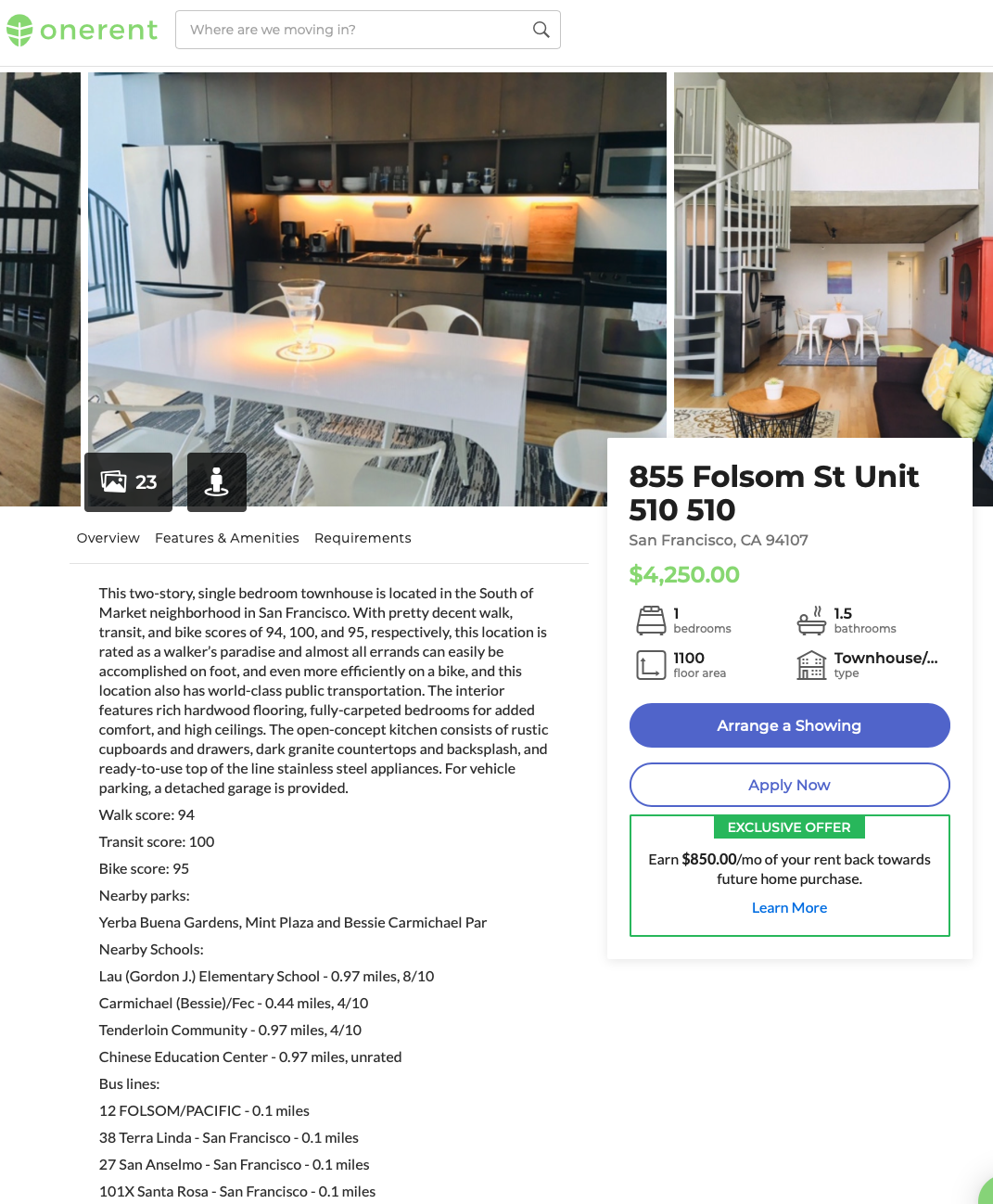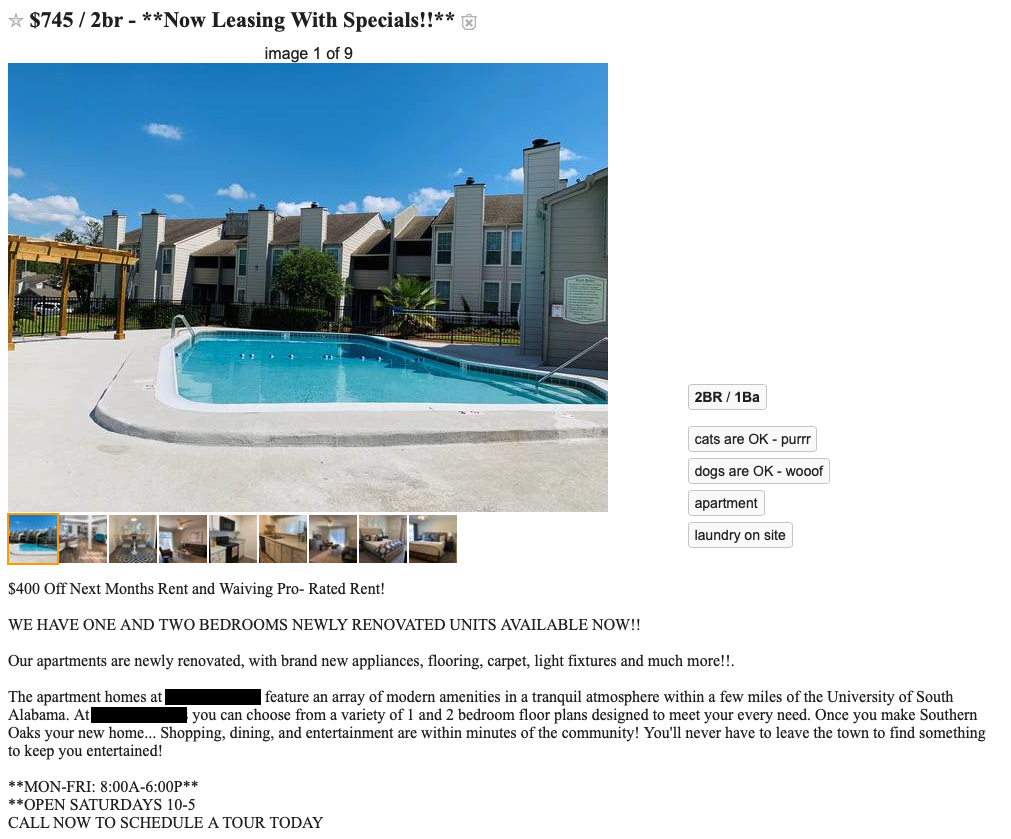 Example 3:
This next example of a poorly written rental property listing only has one major concern. The photos are well edited, the description is detailed, and even has a strong call-to-action. 
What this listing lacks is also in the headline, as it lacks to specify the specific specials offered. The offer as listed in the description is, "$400 off Next Months Rent and Waiving Pro-Rated Rent!"
A large financial incentive such as this needs to be included in the headline. Here is what we advised as a revision:
2 bed/1 bath Pet-Friendly Apartment with $400 off Next Month's Rent and No Pro-Rated Rent!
Example 4:
Here is another ideal property listing. At a closer look, this listing description says:
This two-bedroom and two-bathroom condo unit is located in the Mira Mesa neighborhood in San Diego. The property is a thirty-two-minute drive to downtown San Diego, although a plethora of restaurants, coffee shops, grocery stores, pharmacies, banks, and shops along Mira Mesa Boulevard and Carmino Ruiz are all within an eight-minute drive. The unit itself boasts a well-thought-of floor plan, hardwood and tiled flooring, and access to an intimate little patio—perfect for some outdoor dining. The living room is wide and can fit multiple furniture and features a cozy fireplace for climate control. You will definitely enjoy cooking in this beautiful kitchen surrounded by classic yet stylish wooden cabinets and drawers, smooth granite countertops and backsplash, and ready-to-use kitchen appliances. Thanks to carefully-placed lighting fixtures and tall windows, the whole place feels sun-filled and well-lit.
This description gives more than enough information about the home and what a renter can expect when renting the property.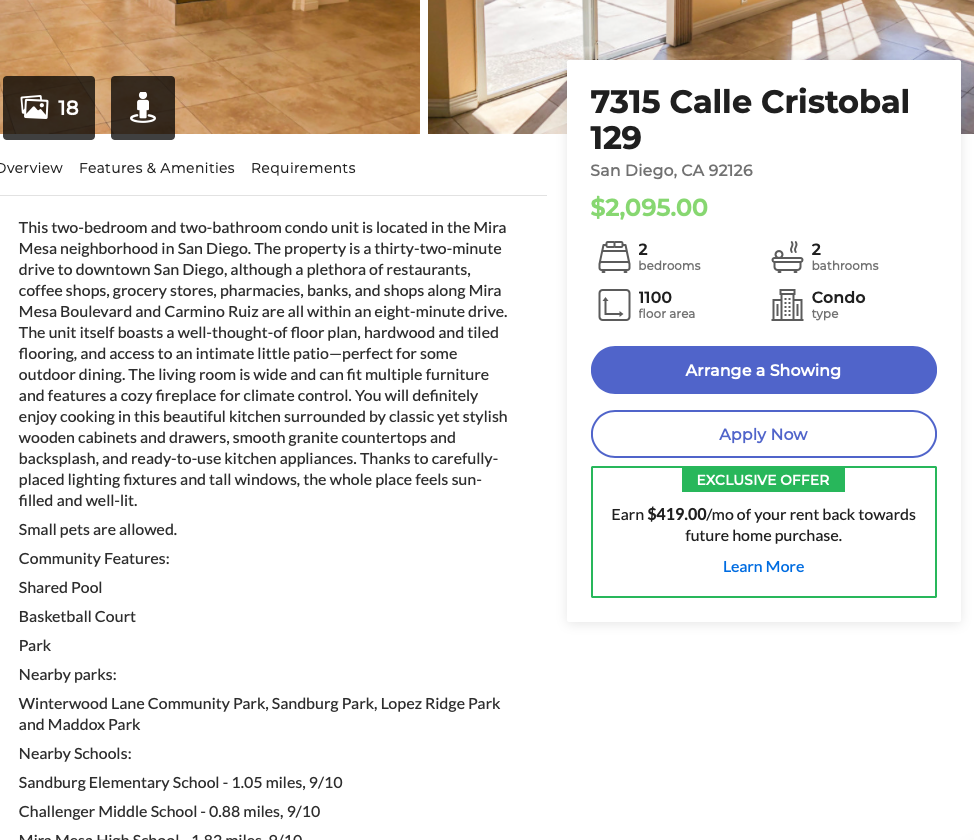 Having a Strong Call-to-Action
After the description, it's time to finalize your offer. This is the most crucial element of your listing: the call to action.
In this section, you will ask your reader to take their initial interest and translate that into contact. Tell them the offer is limited, or that there is significant interest in the property. Have your words compel the reader to act quickly. This gives your audience a sense of urgency that will let them take action sooner and therefore minimize vacancy.
You should also make sure your listing has accurate contact details, such as your name, email, phone number, website, and rental showing details. Be prepared to respond rapidly to texts, phone calls, and emails regarding the property. With a quicker response time, you will be able to decrease the vacancy time and therefore be cashflow positive quicker. 
Use these tips to generate compelling content that will rent your property within weeks rather than months. Let your imagination go and see how you can write your way to real estate success.
Become a Onerent Blog Contributor
Submit articles and reach thousands of readers through the Onerent network.